Jeremy Bird, PA-C, NP-C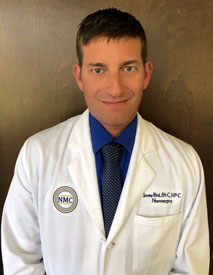 Jeremy Bird, PA-C, NP-C, MSN, is board certified as both a Physician Assistant (PA) and Nurse Practitioner (NP). He has a long history of involvement within the healthcare profession, Neurosurgical Medical Clinic (NMC), and San Diego.
Growing up in the Midwest he knew he wanted a career in Medicine. After high school he moved to San Diego where he enlisted in the US Navy to become a Hospital Corpsman (which were the founding students of the Physician Assistant Profession at Duke University in 1965 lead by Dr. Stead)
When he was discharged from the Navy he went on to become a Licensed Vocational Nurse (LVN) and continued his studies and became a Registered Nurse (RN).
He enjoyed the surgical side of medicine and became an Operating Room nurse. After surgical training he was asked to pick a primary specialty and he chose Neurosurgery, as he enjoyed the complexity of the brain and spine, which is where he first met some of the beginning physicians of NMC, Dr. Assam and Dr. Ott, as well as several others, who still practice here today.
He continued on his path earing his Bachelors degree from USC Dominguez Hills. He then was accepted at UC Davis combined PA/NP Master's program. After graduating he moved to New Orleans, LA where he practiced in both Neurosurgery and Urology.
He has since returned to San Diego and has joined NMC. He enjoys helping patients and first assisting in a multitude of surgical procedures. He also keeps his ties to the New Orleans region and returns annually to be a part of the Krewe of Tucks, one of the several social aid and pleasure clubs that put on one of the over four dozen super parades during the Carnival (more commonly known as Mardi Gras) season.