Sohaib Kureshi, MD, FACS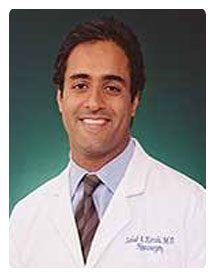 Dr. Kureshi is a board-certified neurosurgeon. He has practiced neurosurgery for more than twenty years in San Diego, joining NMC following his residency at Duke University in North Carolina. Prior to his residency he received his medical degree from the University of Southern California.
Dr. Kureshi has an area of interest in pituitary microsurgery, brain tumors, spinal cord tumors and degenerative cervical and lumbar spinal disorders.
Dr. Kureshi has written articles for several peer-reviewed publications, including Neurosurgery, Skull Base Surgery and Conference Proceedings from the International Functional Electrical Stimulation Society.
Dr. Kureshi is a member of the American Association of Neurological Surgeons, Congress of Neurological Surgeons and the San Diego Medical Society.
Dr. Kureshi strives to make a difference every day and to deliver compassionate, personalized health care. He believes in working with his patients to provide the best treatment options and care possible for every patient.
Dr. Kureshi's personal interests include spending his free time with family and friends, traveling, surfing and racing. Dr. Kureshi continues to compete in wheel to wheel race car driving.
Dr. Kureshi see patients at our Convoy Street office.
Dr. Kureshi has privileges at Sharp Memorial Hospital, Sharp Grossmont Hospital, Sharp Chula Vista Medical Center, Scripps Mercy Hospital, Scripps Memorial Hospital, La Jolla and Palomar Medical Center.
Executive Assistant:
Chelsey Lollis
Tel: 619-297-4481 ext. 117
Fax: 858-810-7308
Email: Chelsey@sd-neurosurgeon.com
Curriculum Vitae
Curriculum Vitae for Sohaib A. Kureshi, MD, FACS